Most Meghalaya tours cover the more popular areas of Shillong, Cherrapunjee, Dawki, etc. which gives you a perfect introduction to the abode of clouds. But what if such a Meghalaya tour itinerary can be made even better by adding some not-so-famous but gorgeously beautiful locations in a 7-day Meghalaya itinerary?
Maybe a fully customizable 6 nights 7 days Meghalaya tour package that is designed as per your taste?
Customized 7-Day Meghalaya Tour Plan Itinerary
This customizable Meghalaya tour attempts to do just that, over a period of 7 days.
Day 1 – Guwahati to Shillong
Day 2 – Shillong to Cherrapunjee
Day 3 – Cherrapunjee to Double Decker Living Root Bridge Trek – Cherrapunjee
Day 4 – Cherrapunjee To Mawlynnong via Dawki
Day 5 – Mawlynnong – Krangsuri Waterfall – Jowai/Shillong
Day 6 – Jowai – Nartiang – Laitlum – Shillong / Shillong – Laitlum – Police Bazar – Shillong
Day 7 – Shillong to Guwahati
Custom Meghalaya Tour Plan Itinerary
The detailed itinerary from this 7-day Meghalaya trip plan is given below of one of our many north east India tour packages which are tweaked and curated as per the guests' taste.
Day 1 – Guwahati to Shillong
After a quick meet & greet at the Guwahati airport, you will start your journey from Guwahati to Shillong. Drive through the plains of Assam for a while, leaving the city of Guwahati behind. As you start ascending, notice how shops on the right side of the road say Meghalaya while those on your left say Assam. This continues for the next few kilometers when you finally take a right and cross over to Meghalaya, the abode of clouds.
Your first stop will be Umiam Lake to enjoy the beauty of this serene place under gorgeous skies. Spend some time here. You can choose to go for a boat ride here if you wish. Once done, resume your journey to Shillong and straight to your lovely Khasi homestay. Evening free to relax. Finish your day with an authentic Khasi dinner at your homestay.
Day 2 – Shillong to Cherrapunjee
Cherrapunjee is one of the most beautiful parts of Meghalaya. With many wonderful places to see in Cherrapunjee and around, the drive from Shillong to Cherrapunjee will take almost the entire day, even though the distance is very small. Today's journey is full of places to see. By the end of the day, you will have visited the following places:
Elephant falls.
Shillong Peak.
Mawkdok Viewpoint.
Wah Kaba Falls.
Arwah Caves.
Dainthlen Falls.[Time & weather permitting.]
Nonkalikhai Falls.
Mawsmai Caves/Arwah Caves.
For the night, check in to a wonderfully located resort off Cherrapunjee or at a very homely and simple homestay in Cherrapunjee.
Day 3 – Double-decker Living Root Bridge Trek 
Today is going to be one of the most exciting days of your 7-day Meghalaya Trip. You will be walking to the bio-engineering marvel also known as the living root bridge or jingkieng nongriat (double-decker living root bridge). The trek to the double-decker living root bridge starts from a tiny village named Tyrna. You will be joined by your guide here, who will guide you through quaint villages, turquoise natural pools, and gorgeous vegetation.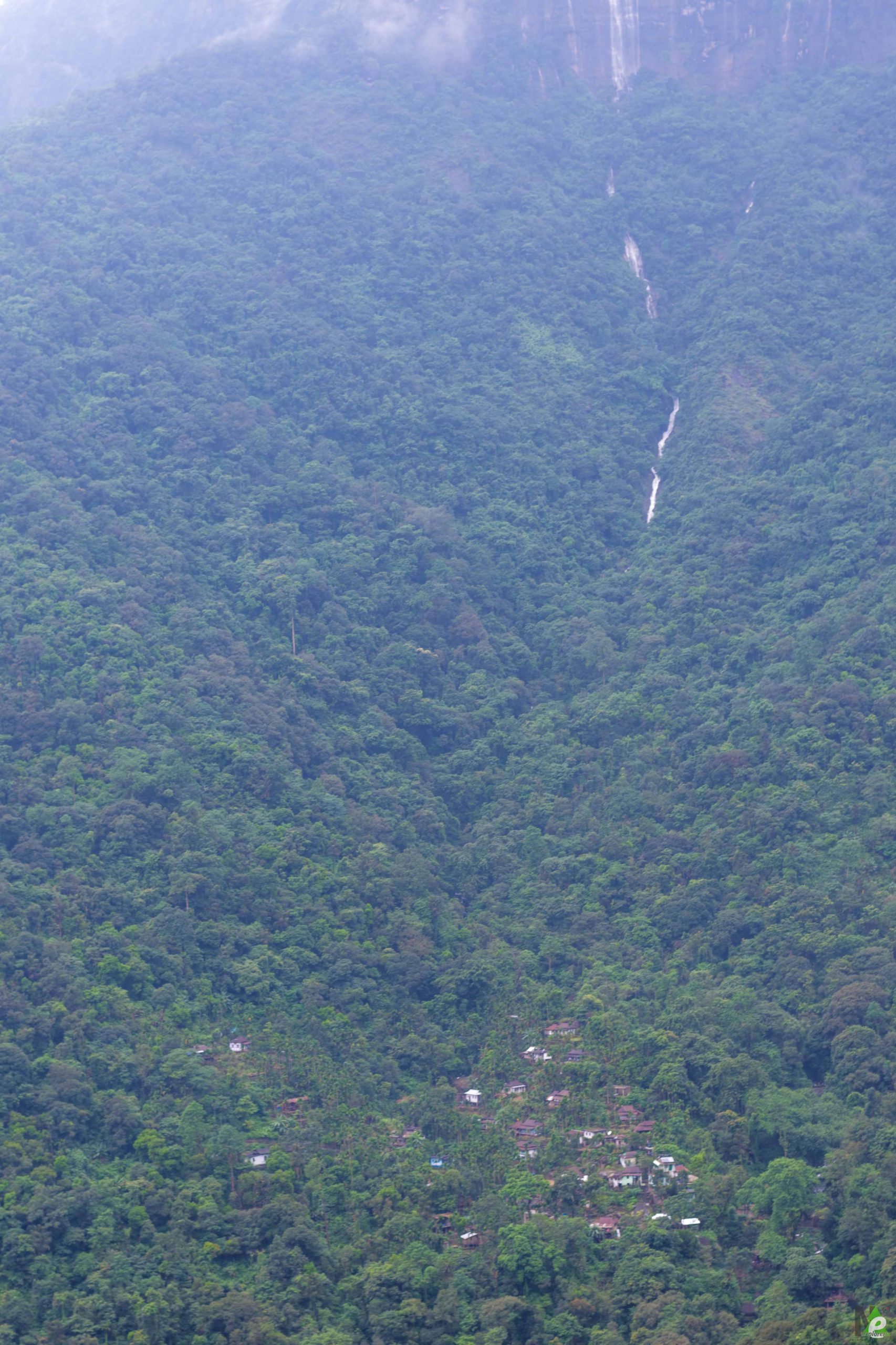 At a brisk pace, it will take you more than an hour to reach the double-decker living root bridge. Once there, spend your time lazing around at the natural pool near the root bridge. Explore the area at your own place and then start your walk back. Remember, lunch in Nongriat will have to be either snacks and energy bars that you carry or simple noodles or local food available there.
Be back at your stay by evening.
Day 4 – Cherrapunjee to Mawlynnong via Dawki
Start at leisure today and start for Mawlynnong village, after breakfast. Famously known as Asia's cleanest village, Mawlynnong is a quaint village tucked on a small hill overlooking the Bangladesh plains. But before we head there, we will take a detour towards the India – Bangladesh border at Dawki.
Here, you can experience boating on the transparent waters (not included) and have your lunch on a river island of the Umngkot River. From there, you will go visit the Tamabil border post before heading back to Mawlynnong village for the night.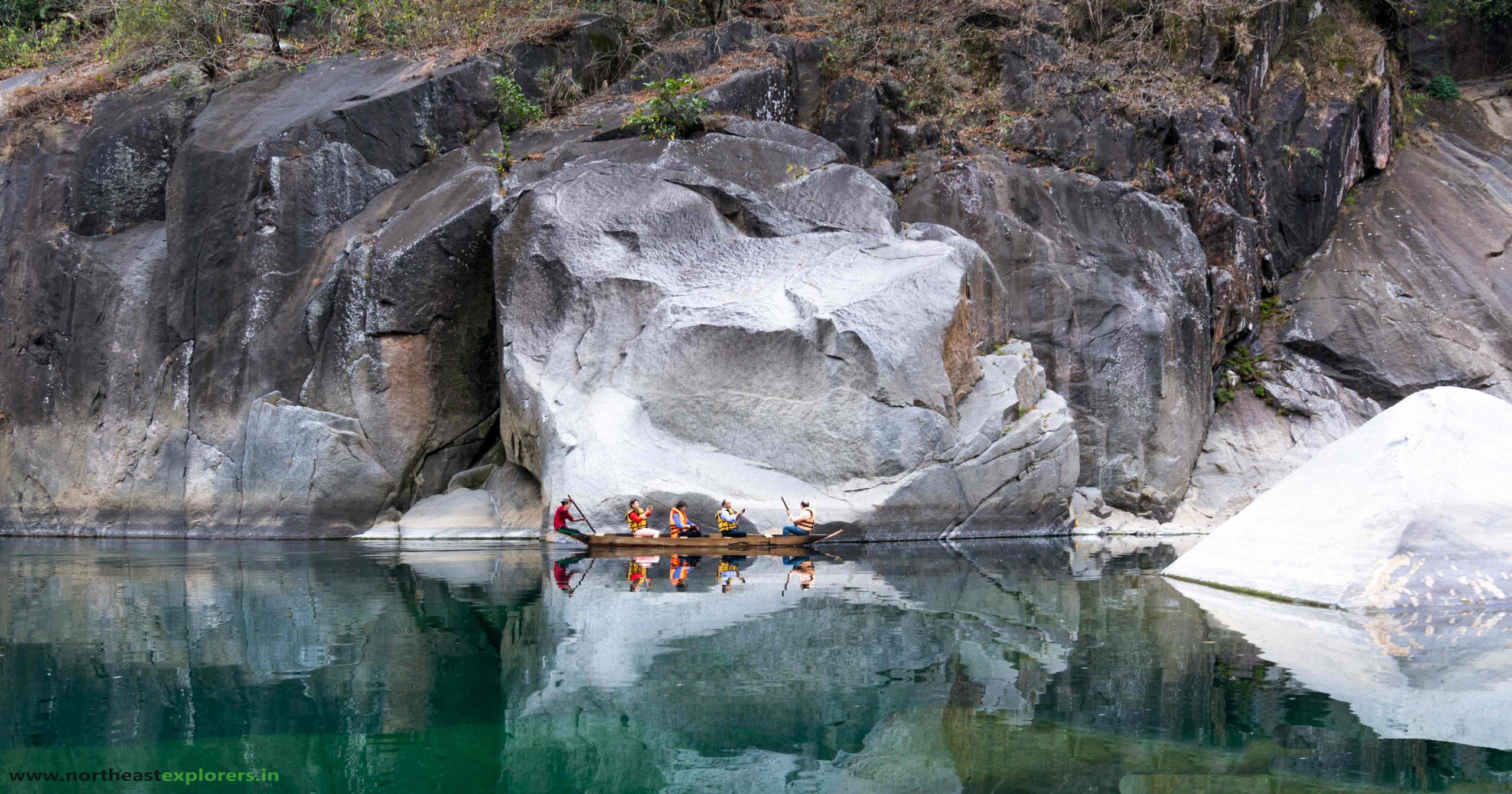 Day 5 – Mawlynnong to Krangsuri to Jowai
Wake up early and take a walk around the beautiful village with its hundred-year-old Church to see how everyone, from kids to elders, strives to keep even the tiniest bit of trash off the streets and everywhere else other than the dustbins. Head back to your Khasi homestay to freshen up and check out.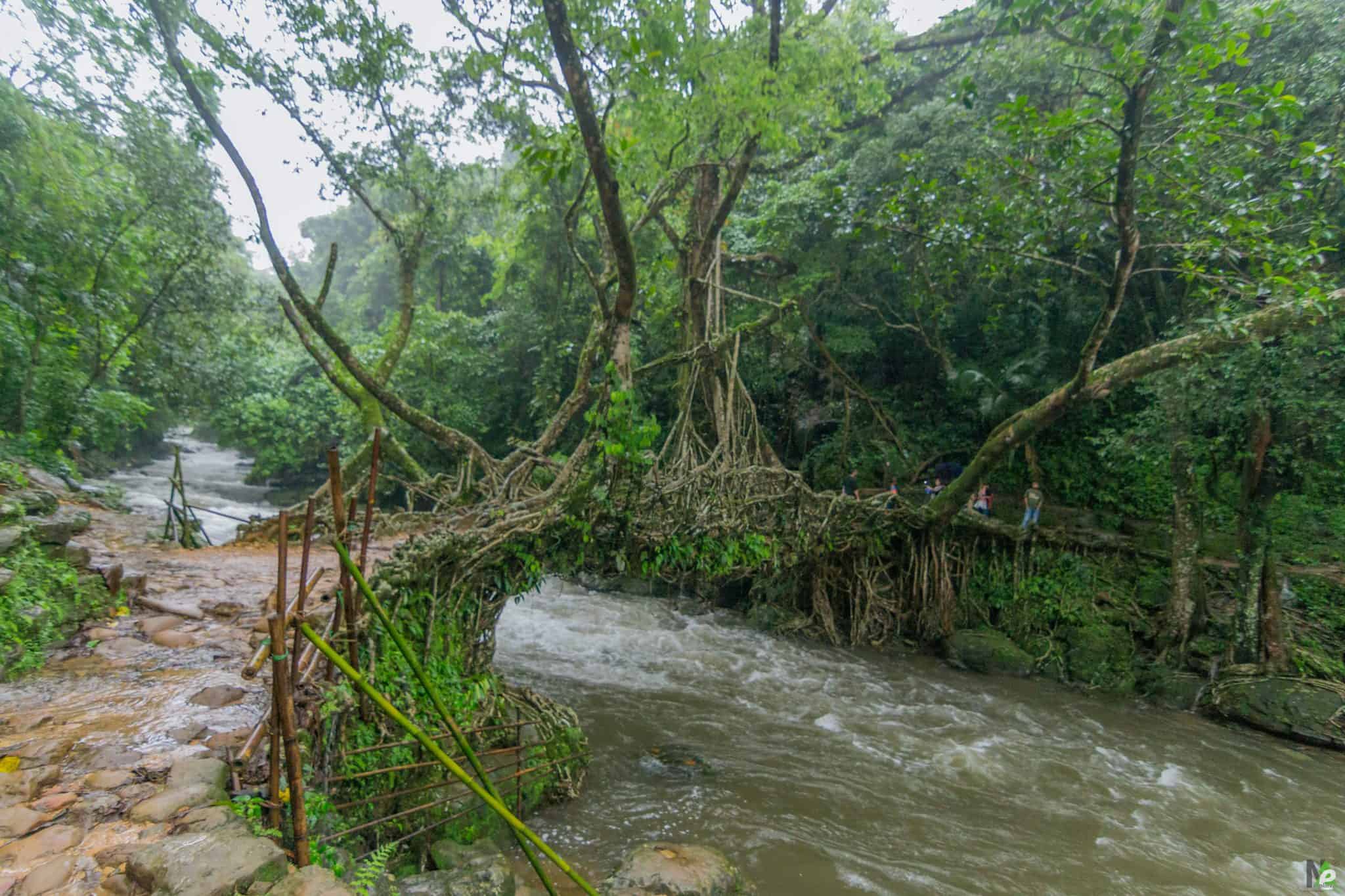 Post breakfast, we will be visiting the single-decker living root bridge at the Riwai village.
From there, start for Jowai but not before visiting the gorgeous Krangsuri waterfall and spend some time there.
Evening free to relax or take a relaxed walk around your homestay.
**Availability at Jowai is very limited. In case Jowai is not doable, we will overnight at Shillong.
Day 6 – Jowai To Nartiang Monoliths To Laitlum To Shillong / Shillong – Laitlum – Police Bazar
Leave your bed early and go out for another walk around your homestay. Located outside Jowai town, the location is perfect an aimless walk is one of the best ways to enjoy the place. Then after breakfast, head to the Nartiang Monolith Park and witness the stone monoliths of the Jaintia people kept there.
Or, in case of staying in Shillong on Day 5, the day's plan would cover Shillong, the Laitmum canyons, Police Bazar in the evening.
Even though the place is not very well-maintained, it has great significance for the region. The monoliths of Meghalaya are said to be one of the tallest in the world and were raised by the erstwhile Jaintia kings. If you are not a history buff, however, you might want to give this place a miss and head directly to the Laitlum canyons. It is a gorgeous place to sit and relax. Then, head to homestay in Shillong.
Evening free.
Day 6 – Shillong To Guwahati
On the last day of your trip, take it easy. Check out around 10 or so and then do some last-minute shopping from Shillong, if you haven't already. On your way back to Guwahati, feel free to stop again at the Umiam Lake or at the Umiam Lake viewpoint before heading straight to the airport.
Fly out with beautiful memories of your customizable Meghalaya tour in North East India.
Trip ends.
Inclusions
Dedicated vehicle for the entire stay in Meghalaya.
Accommodation for all nights on twin sharing basis.
Breakfast from Day 2 till the last day.
Guide wherever required.
Meghalaya Permit.
Exclusions
Any personal/sanitary/medical expenses.
Any extension in the number of days staying.
Food and snacks.
Anything that is not mentioned in the 'inclusions' section.
Boating charges.
5% GST.
** Oct-end through April is generally considered dry season in the region so, the waterfalls are not at their best in this period. However, the Umngkot River is at its transparent best.
** You can also customize it to add camping by the Umngkot River off Dawki, instead of staying in Mawlynnong village. Riverside camping is not possible during the monsoon season.
Click here to read more about the best time to visit North East India.
**Please be informed that the homestays in Cherrapunjee & Mawlynnong are neat & clean but basic, given their geographic location. If you think are not flexible enough to stay in experimental homestays do let us know and we will plan your accommodations in Shillong.
**The stay at Jowai involves 15-20 minutes of walking from the drop-off point to reach. There will be people to help you with the luggage but the last bit of this beautiful stay is to be covered on foot.