This 10-day trip to Tawang and Meghalaya is one of the best Assam Meghalaya Arunachal Pradesh tour packages. This road trip to North East India combines our One Week in Meghalaya trip and our one-week road trip to Tawang, Arunachal Pradesh offerings.
Clubbing the tour to Meghalaya and Tawang allows you to make the best use of your 10 days in North East India.
Tawang and Meghalaya Trip in 10 Days
This Tawang trip starts from Guwahati in Assam and takes you through the historic towns of Bomdila, Dirang, and others before reaching the destination of the first leg of the trip. In the second leg of the journey from Guwahati to Meghalaya, you explore Shillong, Cherrapunjee, Dawki, and Mawlynnong in around a week.
Meghalaya and Tawang 10 Days Trip Itinerary
Cover Shillong, Cherapunjee, Dawki, Tawang, Dirang, and Bomdila in this wholesome northeast India tour covering some of the best places to visit in North East India.
Day 1 – Guwahati To Dirang
Day 2 – Dirang To Tawang
Day 3 – Tawang Local Sightseeing
Day 4 – Tawang To Bum La (India – China border) – PT Tso – Shungester Lake To Tawang*
Day 5 – Tawang To Dirang/Bomdila
Day 6 – Dirang/Bomdila To Guwahati
Day 7 – Guwahati To Shillong
Day 8 – Shillong To Cherrapunjee
Day 9 – Cherrapunjee To Mawlynnong
Day 10 – Mawlynnong To Shillong (via Laitlum)
Day 11 – Shillong To Guwahati
Day 1 – Guwahati To Dirang
We start from Guwahati in the morning and enjoy our drive through the golden fields of Assam before we start climbing into Arunachal Pradesh, taking a newly built road that makes for a fantastic drive and even better views. On our way, we stop by the beautiful Gyuto monastery and spend some time exploring it. We stop for lunch at a small Tibetan settlement, Tenzin Gang, en route, for lunch before proceeding further ahead. We halt at a lovely little town Dirang, overlooking two mountain rivers, for the night. Check-in to a beautiful Monpa homestay in Dirang for the night.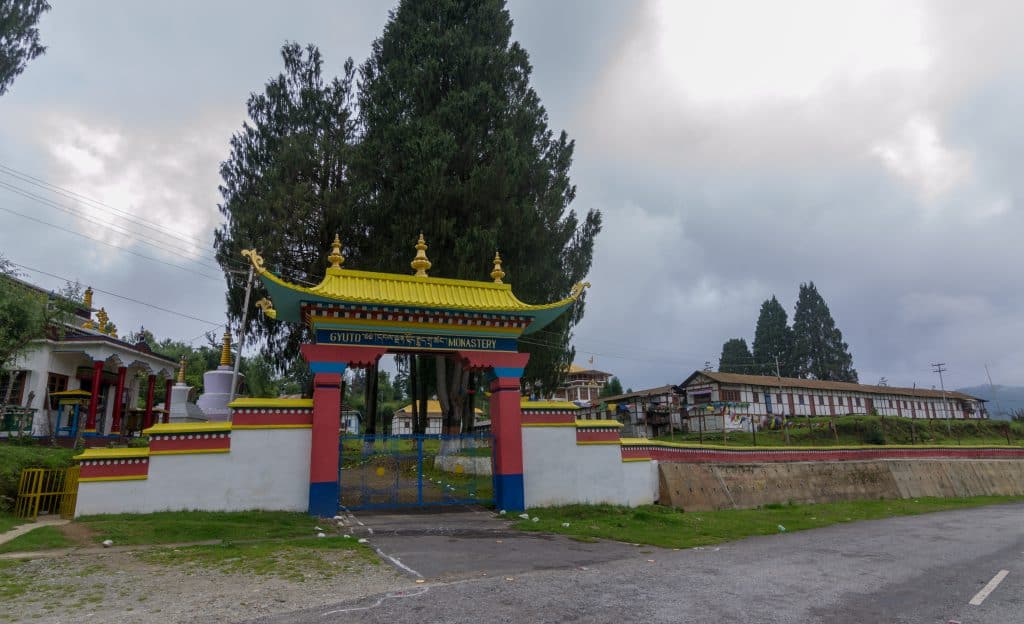 Day 2 – Dirang To Tawang
We start for Tawang today and en route, stop at the Nyukmadung war memorial and pay our respect to the fallen soldiers. We also learn about the Chinese intrusion in Arunachal Pradesh here. Next, we stop at the mighty Sela Pass and soak in the gorgeous views of the surroundings. We visit & pay our respect to the war memorial there and then warm ourselves with piping-hot tea at the army canteen there before we resume our onward journey.
Then we stop for a small stroll by the lovely Sela Lake if time permits and then start for our next stop, the Nuranang waterfall (also known as the Jang Waterfall), the sheer grandness of which is sure to make your jaws drop. We reach our homestay in Tawang by late evening and call it a day.
Day 3 – Tawang Local Sightseeing
We start our day by visiting the largest monastery in the world, the Tawang Monastery. We explore the place at our own pace before heading to the Urgeling monastery – the birthplace of the 6th Dalai Lama. In the evening, we visit the war memorial and experience the light and sound show at the Tawang War Memorial.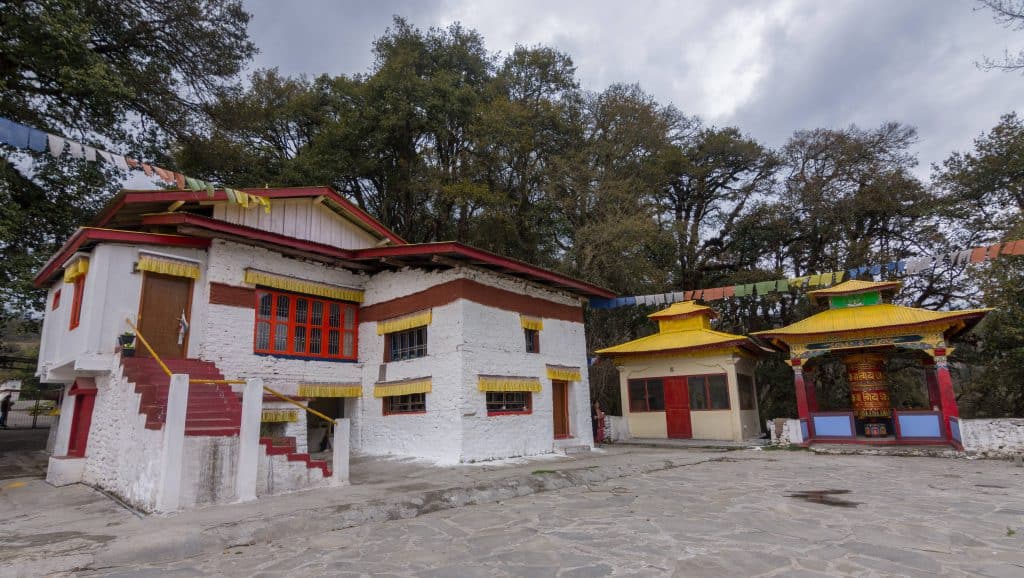 Day 4 – Tawang To Bum La (India – China border) – PT Tso – Shungester Lake To Tawang  [
**Subject to weather conditions]
Today we visit the beautiful Penga Teng Tso and the famous Madhuri Lake (also known as the Sangster Tso
) on our way (or on our way back) to the Bumla pass [India – China border]. We start early today and also explore the sight of numerous beautiful lakes and valleys at the higher reaches of the region. On our way to our first stop, the Penga Teng Tso, we drive through what was once the battlefield.
The scars of the war can be seen scattered all around. From there we head to the uniquely beautiful Sungester Lake, also known as the Madhuri lake of Koyla (the Bollywood movie) fame.
Finally, we head towards the India-China border at Bum-la and spend some time at the border before starting our return journey to Tawang.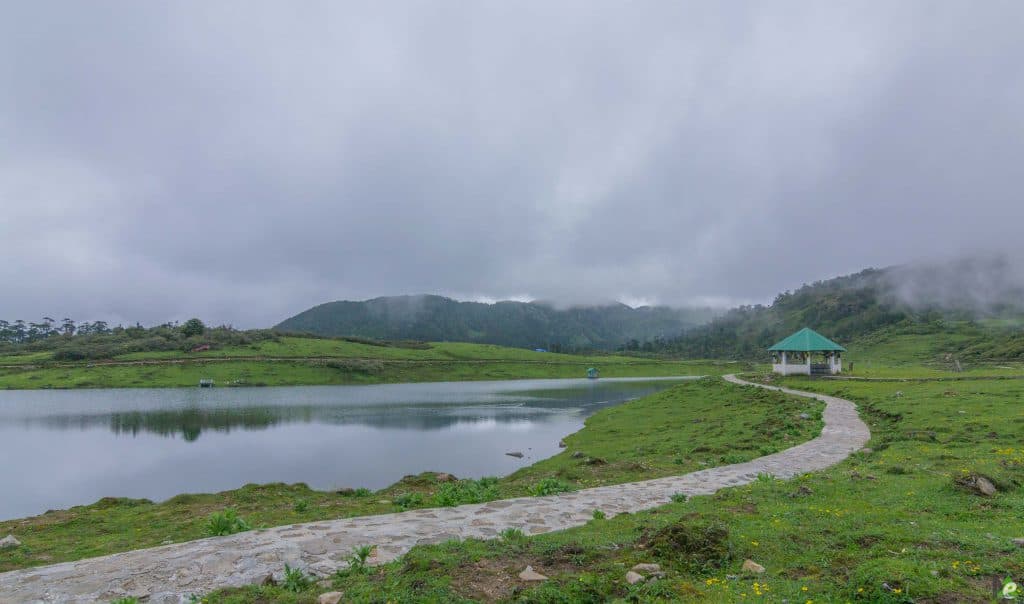 Day 5 – Tawang To Dirang/Bomdila
Start at ease and re-trace the route you took to Tawang on your way up, all the way till you reach it. Relax at your beautiful local homestay/guesthouse and relax.
Take a walk around the small town and pay a visit to the Bomdila monastery.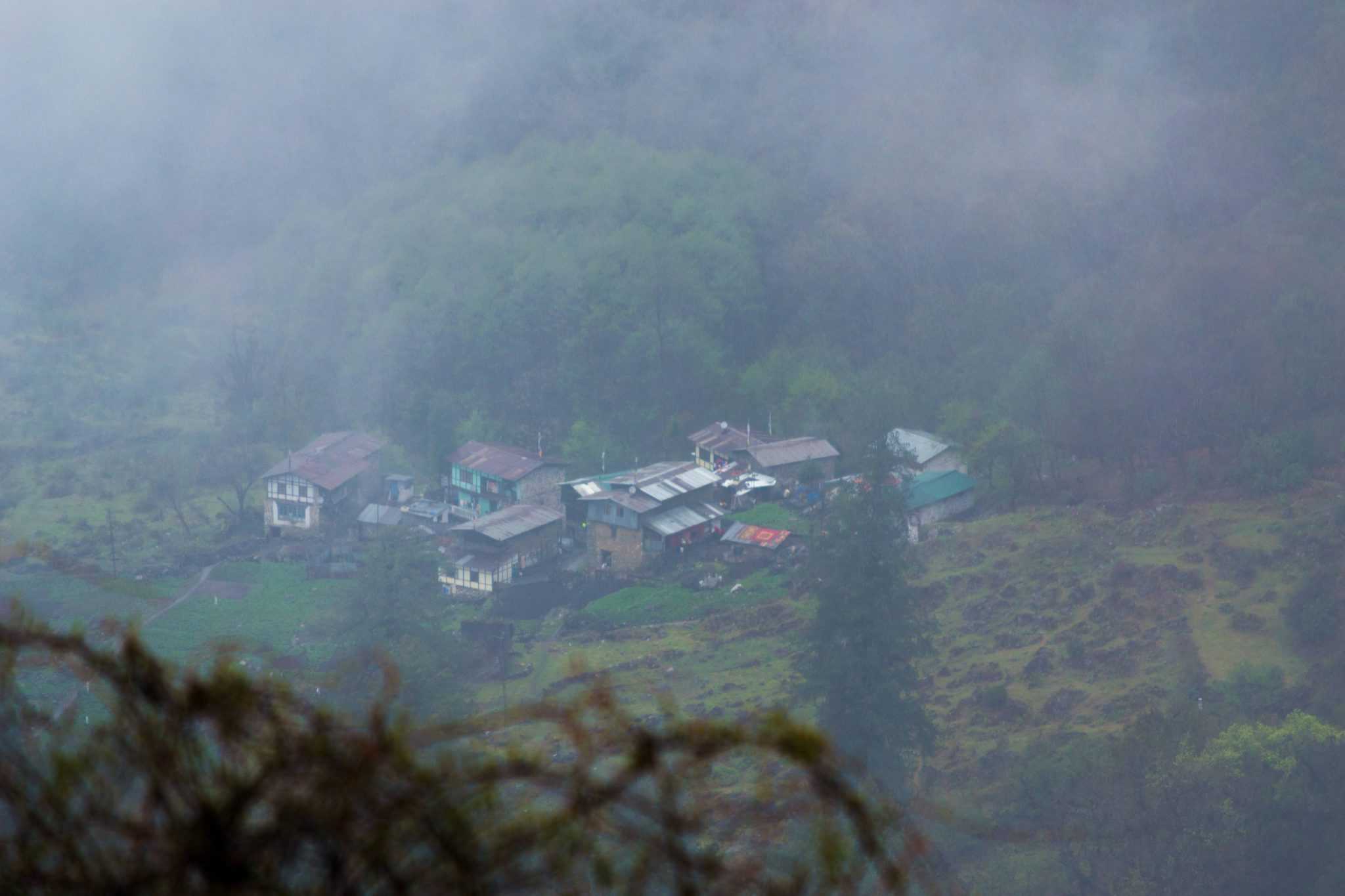 Day 6 – Dirang/Bomdila To Guwahati
Today is going to be a longish drive so, start a little early. Enjoy the views outside as the scenery changes almost every couple of hours. As you leave the towering mountains behind and get off the Trans-Himalayan highway, the flat plains of Assam welcome you.
Cute little Assamese and Bodo villages with small towns in between will keep you company until you enter Guwahati, the capital city of Assam, to call it a day.
Day 7 – Guwahati To Shillong
Today, we start our Meghalaya tour – the abode of clouds. Enjoy the beautiful drive through the Khasi hills and the gorgeous surroundings. Take quick photo breaks as you, please. As you near the final ascent to Shillong, the gorgeous Umiam Lake will present itself to you. Spend time there just taking in the breathtakingly beautiful surroundings. You can also go for a speedboat ride if you choose to, at your own expense. For the night, check in to your beautiful homestay away from the bustling city center and call it a day.
Day 8 – Shillong To Cherrapunjee
Start your day at ease and explore these places to see in Cherrapunjee:
Elephant falls.
Mawkdok Viewpoint.
Arwah Caves/Mawsmai Caves.
Wah Kaba Falls.
Dainthlen Falls (weather & time permitting).
Nonkalikhai Falls.
Nohsngithiang Falls (Seven sisters falls).
Overnight at a simple Khasi homestay in Cherrapunjee
Day 9 – Cherrapunjee To Mawlynnong
Today you visit Mawlynnong, Asia's cleanest village. Enjoy the beautiful drive to Mawlynnong, taking random breaks to soak in the beauty around, as you please.
You also, visit the Living Root bridges of Riwai before reaching Mawlynnong. Overnight in a simple homestay in the village.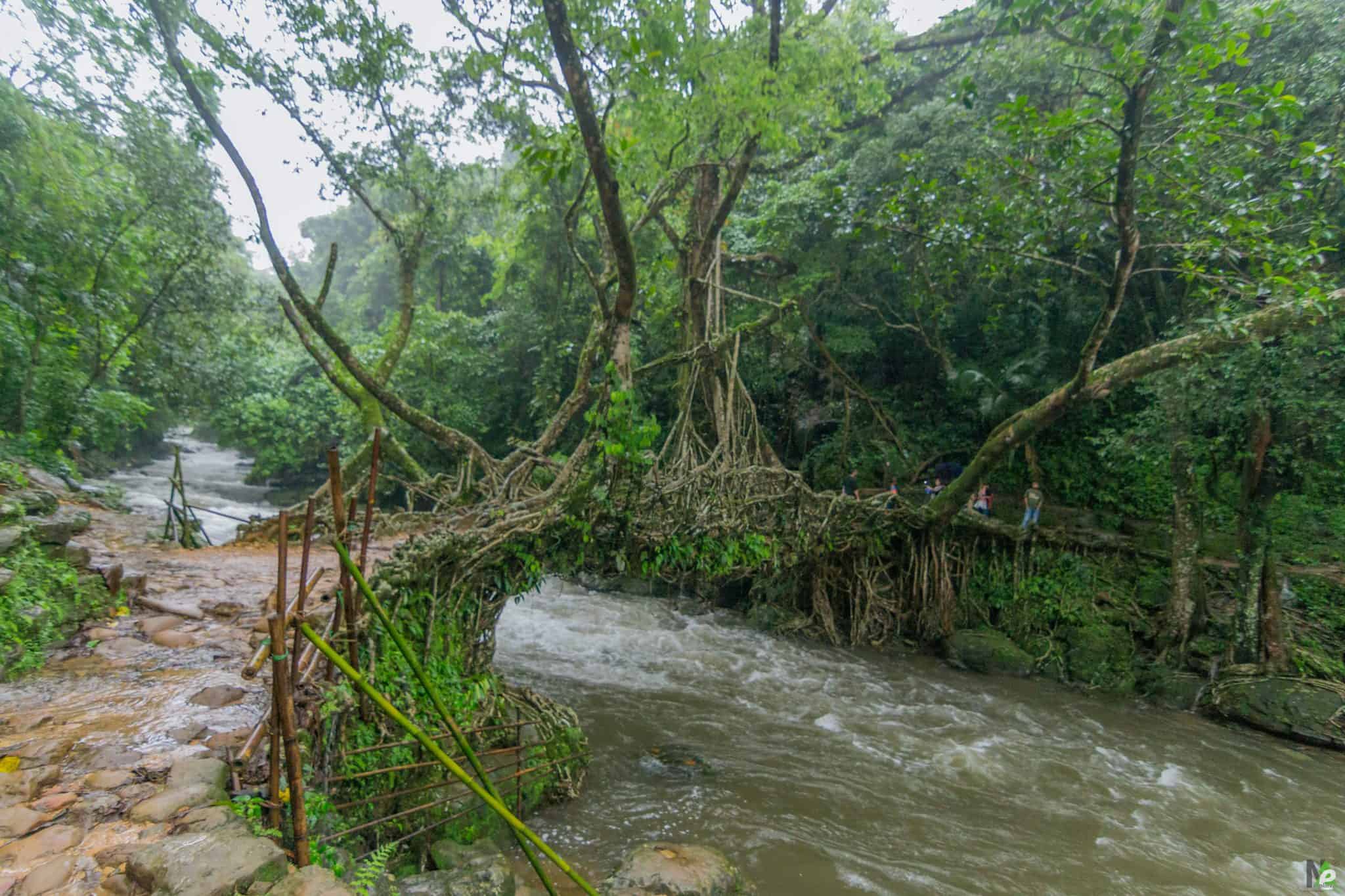 Day 10 – Mawlynnong To Shillong (via Laitlum)
Wake up to a fresh morning in the small Khasi village of Mawlynnong and take a walk around it. Watch the bamboo tower to catch a view of the breathtaking Bangladesh plains below.
Start your return journey to Shillong. Evening free.
Day 11 – Shillong To Guwahati
Start from Shillong at around 10-10.30 AM and stop – by Umiam Lake. You can just sit and enjoy the gorgeous view of low-hanging clouds over this huge lake or go boating on its calm waters. Start for the airport from here and fly out with memories of a lifetime 🙂
The Inclusions and Exclusions for this Tawang and Meghalaya tour are as follows:
Inclusions
A dedicated vehicle with a driver cum guide for the entire stay.

Accommodation for all nights on twin sharing basis in local homestays/monastery/hotel.

Breakfast starting day 2 till the last day.

Local guide wherever required.

All toll charges as required.

Inner Line Permit [Indian Citizens]
Exclusions
Any personal/sanitary/medical expenses.

Any extension in the number of days stay.

Food and snacks.

Parking & entry fees anywhere.

Bum La Permit and vehicle charges. (To be paid in cash to our representative)
PAP/RAP for foreign nationals

Anything that is not mentioned in the 'Inclusions' section.

5% GST.
* Non-Indians are not allowed towards Bum La and the upper reaches. For non-Indian passport holders, on this day, we will visit additional areas and attractions around Tawang.
**Elephant safari is allotted by the Kaziranga National Park authorities, purely on an availability basis.